Gift from Planet Earth (icy sea)
EDITION FOR MARCO MENGONI'S ATLANTICO FEST Nov 2018
---
This work is composed by various multiple, hypothetic gifts sent by Planet Earth
to other potential referent in and out the Solar System. What will remain of this era and of us, human beings?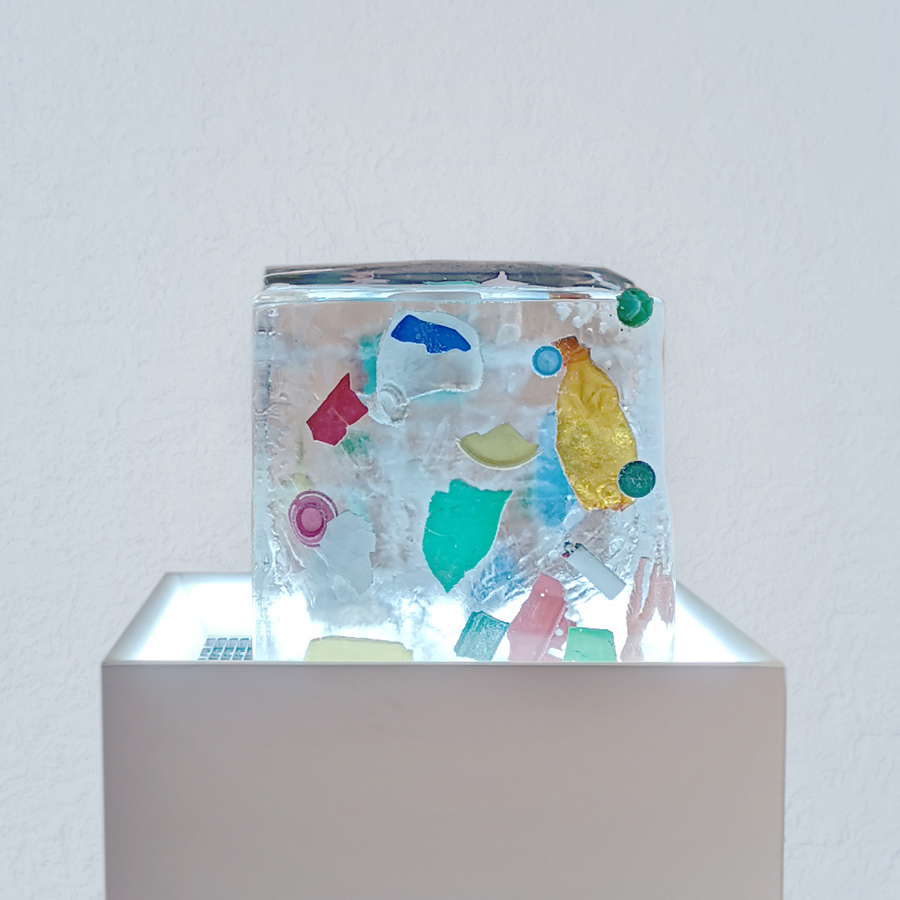 ---
GLACIERS ARE THE HARD DISKS OF OUR PLANET,
THE MEMORY OF A PRECISE MOMENT IN TIME.
I "FREEZED" THE SEA AND I EXTRACTED
SOME BLOCKS WHICH ARE ALSO THE MEMORIES OF US,
OF OUR PRESENT BEHAVIOURS.
WE ARE WATER, WE COME FROM THE WATER
AND WE FEED OF SEA SO PROBABLY,
OF TRANSCIENCE OF OUR LIVES, OF OUR BODIES,
ALAS, IT WILL REMAIN PLASTIC, ABOVE ALL.



As you can imagine the life of this work is very short, it is more similar to a performance.
The fruition is a metaphor also in today's artworks, in the era of social media;
the representation is more important than their own existence.

---

Questo lavoro é composto da una serie di multipli, da ipotetici regali spediti
dal pianeta Terra ad altri potenziali referenti del sistema solare e non.
Cosa resterà di questa epoca e di noi esseri umani?


I GHIACCIAI SONO GLI HARD DISK DEL PIANETA,
LA MEMORIA DI UN PRECISO MOMENTO STORICO.
HO "CONGELATO" IL MARE ED HO ESTRATTO
DEI BLOCCHI CHE SONO ANCHE LA MEMORIA DI NOI,
DEI NOSTRI COMPORTAMENTI ATTUALI.
NOI SIAMO ACQUA, VENIAMO DALL'ACQUA
E CI ALIMENTIAMO DI MARE PER CUI PROBABILMENTE,
DELLA TRANSITORIETÀ DELLE NOSTRE VITE, DEI NOSTRI CORPI,
AHIMÈ RESTERÀ SOPRATUTTO DELLA PLASTICA.

Come potete immaginare la vita di quest'opera è brevissima, è più assimilabile ad una performance.
La fruizione é metafora anche delle opere d'arte oggi nell'epoca dei social:
la rappresentazione é più importante dell'esistenza stessa.